Parmelee Victorian History
The following was abstracted from a report for the City of Monterey by Kent Seavey, Historic Specialist.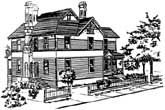 In 1889, Harry Ashland Greene, a retired San Francisco financier subdivided New Monterey, a 295 acre parcel of land situated between the old (Spanish) town of Monterey and Pacific Grove, advertising that" the town had been systematically laid out into large lots, fronting broad streets and avenues with water mains laid throughout."
On August 12, 1890, entrepreneur Juan U. Malarin and two associates were granted the right under Monterey City Ordinance No. 27 to establish the Monterey and Pacific Grove Street Railway Company, a horsecar lime connecting the Del Monte Hotel with Pacific Grove, passing through both of the newly established subdivisions. Regular service began on August 5, 1891. It was in the context of this surge of residential development in and around Monterey that newlyweds Horatio and Lou Ellen Parmelee constructed their family home In New Monterey in the fall of 1896.
Horatio M. Parmelee (1874-1942) was a cultured and well-to-do young man from New Haven, Connecticut who had come to the Monterey area in about 1894-95 for health reasons. While in Monterey he was advised to visit the Big Sur coast to convalesce. There he found lodging with the Swetnam family at Garrapata Creek. Issac and Ellen Swetnam had moved to the Big Sur area in 1885 to homestead a piece of government land. Both adults appear to have had some teacher training as they were well educated for their time. During Parmelee's stay with the family a romance ensued with the Swetnam's third daughter, Lou Ellen (1878-1954). The young couple were wed in Pacific Grove on March 19, 1895. The newlyweds took up residence with Lou Ellen's family and remained in Big Sur until the fall of 1896, when the Archer St. property was purchased and their own home constructed on it.
It is interesting to note that between October. 1896 and January, 1897 Horatio Parmelee and Issac Swetnam had purchased all the parcels in the block encompassed by Archer St., Hoffman Ave. Spencer St., and McClellan Ave. and had deeded the entire property to Lou Ellen Parmelee. The last two lots, 6 and 8, on which the house was built were deeded to Lou Ellen on January 6, 1897 by her father, "for love and affection" as a wedding gift.
The first mention of the Parmelee house appeared in the Monterey Cypress on October 3, 1896, noting the price of the new home was $3,000. No other notice of the residence and its builder has been found to date. Because there were so few two-story Queen Anne houses constructed in Monterey it is possible to speculate that the design may have come from contractor Douglas Knox Frasier. Frasier drew-up and built a two-story Queen Anne house for Dr. J.P.E. Heintz at Oak Grove in 1890, directly across from the Del Monte Hotel bathing pavilion, much frequented by the Parmelees. Illustrations of the Heintz house, since demolished, show some similarities between it and the Parmelee residence.

Clearly the Lou Ellen Parmelee House with its commanding hillside setting above Monterey Bay displaying the irregular building form, complex hipped roofs with lower cross gables pierced by tall, patterned masonry chimneys, and decorative vocabulary of sawn and turned wood trim, embody the distinctive characteristics of the Queen Anne style, making it the best remaining example of the architectural mode found in the city of Monterey.
Of particular significance however, are the interior plaster finishes found throughout the Parmelee house. For quantity, quality of craftsmanship and variety of design in a single residential building one would have to travel to urban centers like San Francisco to come close to approximating those found in this residence. According to preservation plastering contractor Michael Casey, the elaborate coffered fleur-de-lis ceiling in the formal parlor would even be unusual for San Francisco. It is made up of entirely precast elements which have been applied to the ceiling. Each individual coffer consists of almost 30 distinct pieces of plaster that were separately applied plus 80 dimesized rosettes that were used to finish each individual coffer. Several of the large ceiling rosettes found within the building are similarly rare. The plaster work is attributed to George A. Ingram, a Monterey plastering contractor who was the Parmelee's nearest neighbor along Archer St. in 1896.